The controversial GTA Vice City remaster will be included with PlayStation Plus. Every month Sony announce a new line-up of games which will be added to its PlayStation Plus Game Catalog. In a blog post, PlayStation revealed Grand Theft Auto: Vice City – The Definitive Edition will be one of the next games part of PS+.
If you have a PlayStation Plus subscription at the Extra or Premium tier, you will be able to play the GTA VC remaster free of charge. This applies to both the PlayStation 4 and PlayStation 5 version. Regardless if you are playing on the last gen console or taking advantage of new features on the PS5, you are covered.
You'll be able to play Grand Theft Auto: Vice City – The Definitive Edition with your PS+ membership from Tuesday 18th October. This remaster updates the classic with greater draw distances, higher resolution, textures, higher frame rate, improved lighting and more.
When will it be removed from PS+?
According to PlayStation Japan's official blog post, it will leave PlayStation Plus Extra and Premium on Monday February 20th 2023.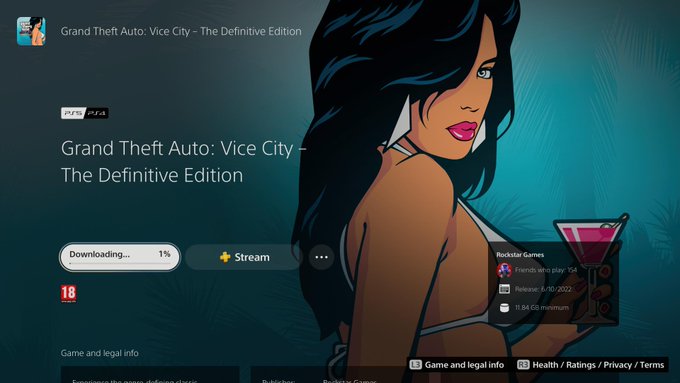 Grand Theft Auto: Vice City – The Definitive Edition does take advantage of the PS5's power and runs the game at 4K resolution at 30FPS. Meanwhile a Performance mode is there to run the game at 4K but with a reduced average dynamic resolution at 60FPS. There is also a 60FPS mode on the PS4 Pro if you have that console.
Trouble in paradise
However, the remaster has been criticised by players since its launch in 2021. This is because the game has had bugs and performance issues but also artistic changes many felt took away from the original. If you are yet to check out the newer version of Vice City, now is a good time as it won't cost you a penny as part of your PlayStation Plus subscription. The game has also received several updates improving the experience over the past year which we have reported on. Take-Two's CEO claimed the mess of the GTA Trilogy was simply a "glitch" and responded to fans' issues.
Recently, a developer on the game posted work-in-progress screenshots of the GTA Trilogy – Definitive Edition to their online portfolio. They have since been removed but we covered and shared them here.
Vice City soundtrack featured by PlayStation
Alongside the game being put into PS+ to celebrate its 20th anniversary, PlayStation are currently featuring the soundtrack. You can see here on the PS5 it is classed as featured music.
The music of GTA San Andreas and GTA III are also being featured by PlayStation.
For more GTA series news, stay tuned to RockstarINTEL.