Following an unprecedented leak of Rockstar Games which revealed GTA 6, the studio have released a statement addressing the situation and misinformation via their Twitter account.
The statement
The heading of the statement reads "A Message from Rockstar Games". They go onto say "We recently suffered a network intrusion in which an unauthorised third part illegally accessed and downloaded confidential information from our systems, including early development footage for the next Grand Theft Auto. At this time, we do not anticipate any disruption to our live game services nor any long-term effect on the development of our ongoing projects." When the leaks spread, this became a hot topic in the community. For this specific part of the statement, it is positive to hear as plenty of community members were worried on social media.
Immense disappointment
The message continues "We are extremely disappointed to have any details of our next game shared with you all in this way." I think we all can agree on this. The best way to see a new Rockstar title for the first time is how Rockstar choose to announce and reveal it. The incredible yet simple Red Dead Redemption announcement is why letting Rockstar do it their way is best.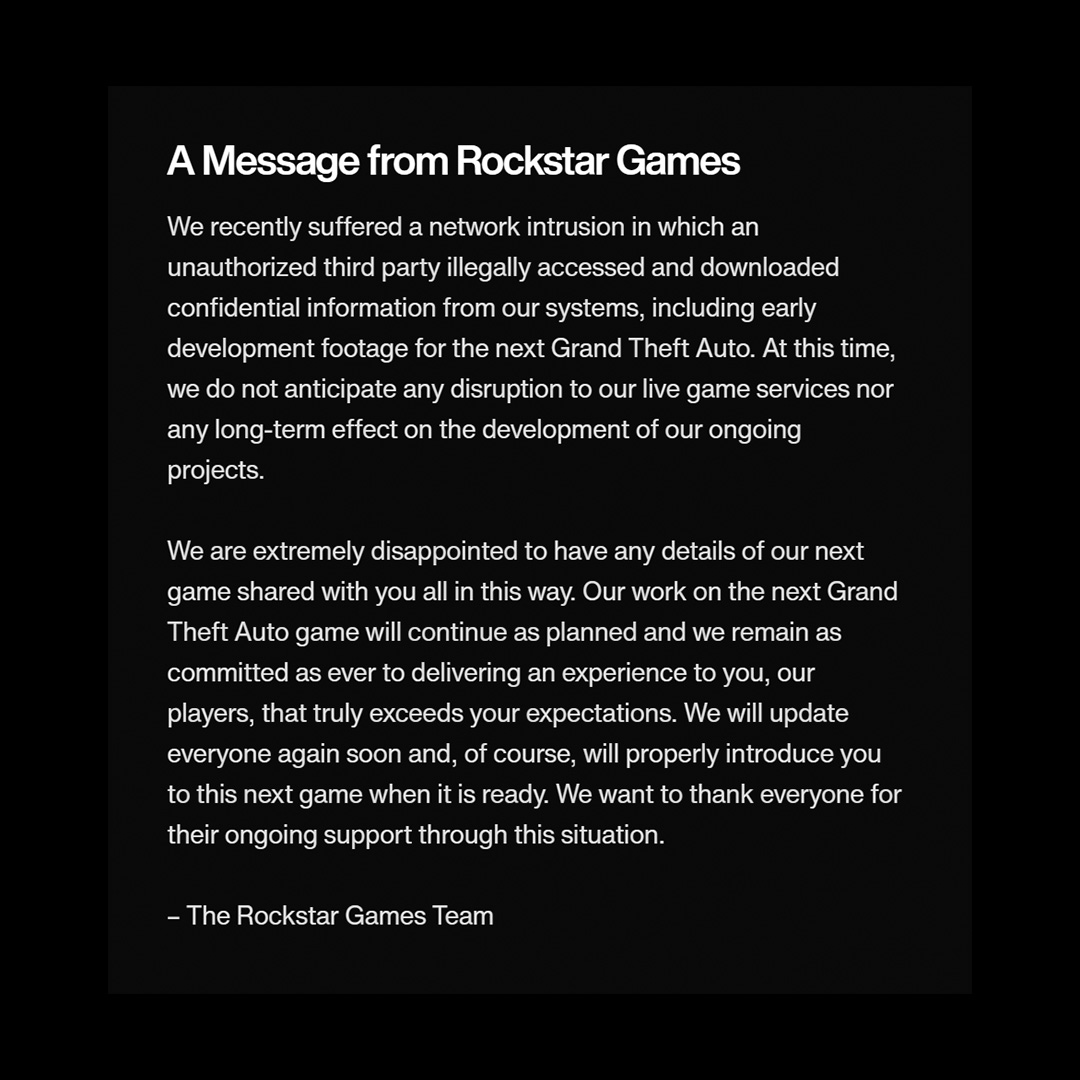 Progress continues on GTA 6
"Our work on the next Grand Theft Auto game will continue as planned and we remain committed as ever to delivering an experience to you, our players, that truly exceeds your expectations" Rockstar say. Another point people in the community had during the leaking was how this could effect the game's development. As always, Rockstar state they want to deliver a game that not only meets our expectations but beats them.
Where is the reveal?
On when we can hear about GTA VI from Rockstar themselves, they write "We will update everyone again soon and, of course, will properly introduce you to this next game when it is ready. We want to thank everyone for their ongoing support through this situation." – The Rockstar Games Team.
This is quite a strong statement that reveals very little. They've also not been forced into rushing a reveal which is not up to their standard. This whole ordeal is not fair on the developers of the most anticipated of all time. We hope Rockstar recover from the hack and blow us away with the reveal of the next GTA game. As a community, we are behind Rockstar Games and look forward to what is next.
Update: Take-Two also release statement
The publisher and owner of Rockstar Games, Take-Two Interactive have sent out a separate acknowledgement letter to investors regarding the leak. It reads "We have already taken steps to isolate and contain this incident" along with parts of the text Rockstar Games posted.
Update 2: FBI confirmed to be investigating
Uber, the mobility tech company, has issued a statement saying they believe the hacker who got into their systems is a group called Lapsus$. This is the same group who is rumoured to have targeted Rockstar recently. They go onto say "We are in close coordination with the FBI and US Department of Justice on this matter and will continue to support their efforts."
For all GTA 6 and Rockstar Games news, stay tuned to RockstarINTEL.