It's August 22nd which means a new event week in GTA Online, bringing you a all new car, double rewards, free t-shirts and more.
Southern San Andreas Super Autos has put up a new vehicle for sale the Vulcar Nebula Turbo a 70s classic sedan, it's stylish but also packs a punch.
Get yours now and impress your friends with your new ride. It's listed for $797,000.
Looking to compete with others and earn good cash while you're at it? Then this is for you. Play the recently released Scenic Route, Rancho Rivalry, Grapeseed Circuit or any Race Series as matter of fact. As it rewards double GTA$ and RP this week.
To launch the Race Series, head to the pink Race Series blip in Pillbox Hill. Or join via Quick Job on your iFruit Phone.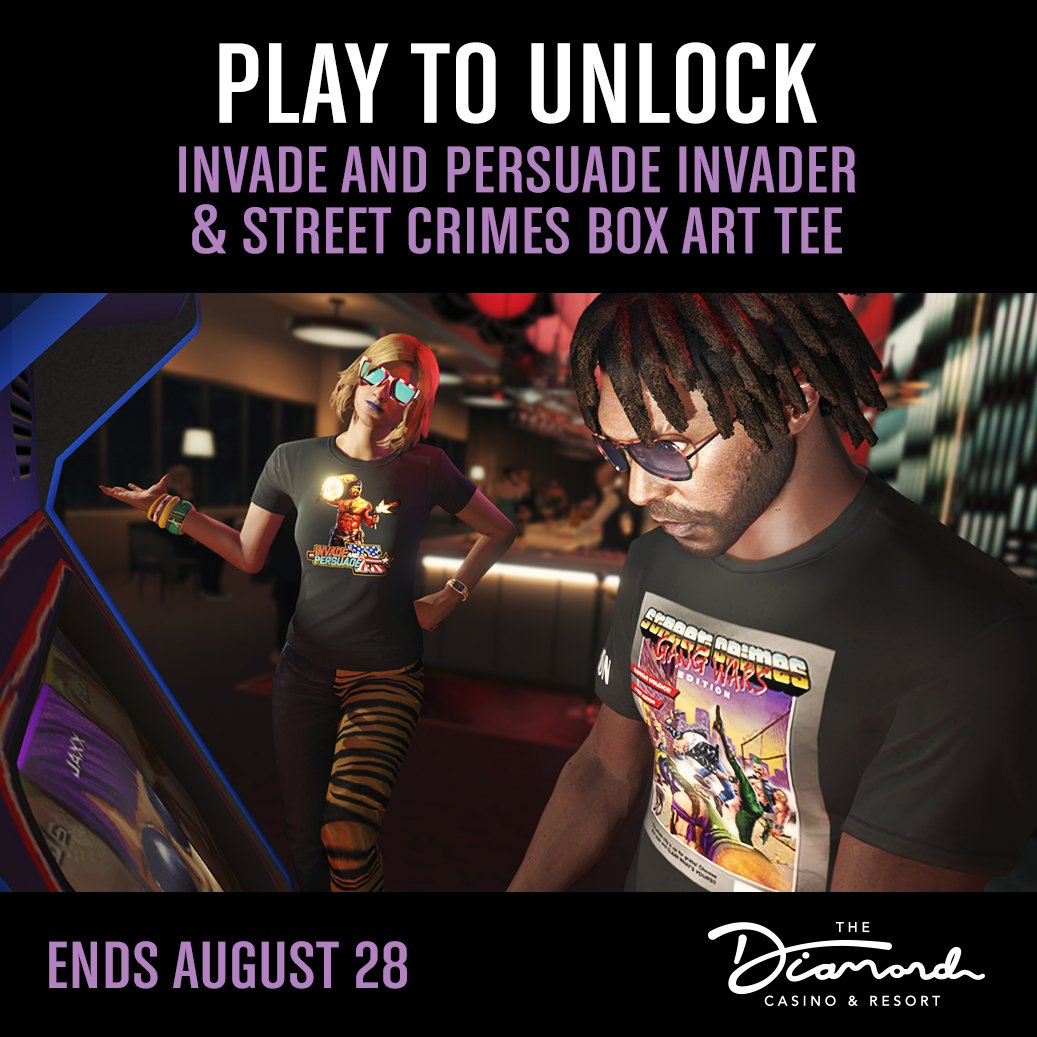 Expanding your clothing collection is never a bad thing. Hop on GTA Online through August 28th to receive the Invade and Persuade Invader & Street Crimes Box Art Tee for absolutely free!

You can make anyone happy with the two words "open bar". Get yourself free drinks at The Diamond's Casino Bar but also in your personal Penthouse Bar and Party Area. Lacking a good party space? Well you're lucky this week as you can also get a 30% discount on the Bar and Party Area upgrade to your penthouse. (along with 50% off Members Party).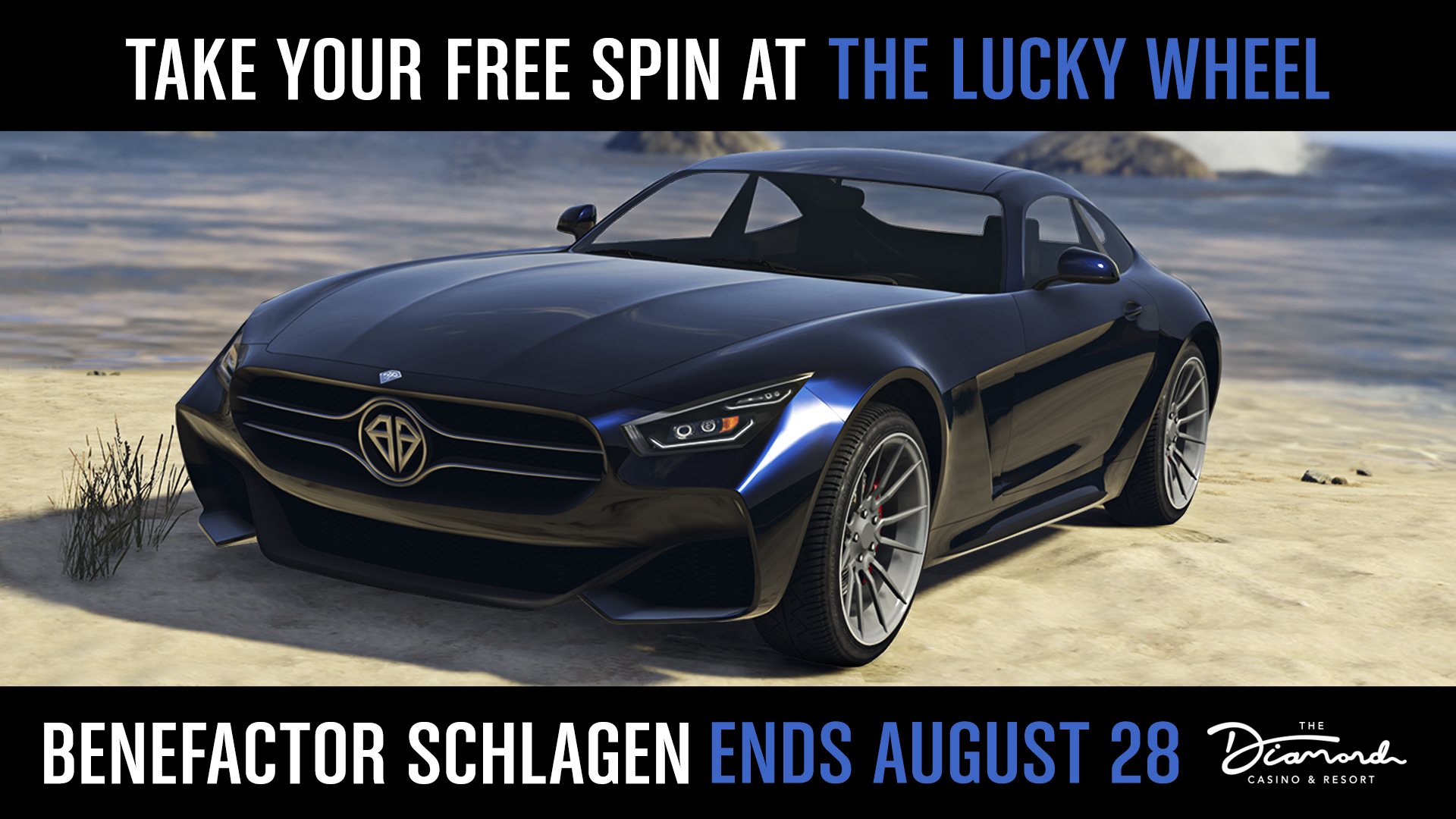 Stop by the The Diamond Casino & Resort lobby every day to give the Lucky Wheel a spin and have a chance at winning this week's podium vehicle. The Benefactor Schlagen GT. As usual there's also many other great prizes to win.

The Casino store is a perfect place to get yourself high quality artpieces and clothing. Like the new Blue Flying Bravo Fitted Suit Jacket and Làconi's masterwork, The Temptation of Aglaia.

This week also sees many new great discounts on Penthouse customization, Supercars, Aircraft and much more. – You can find every discount mentioned below:
PENTHOUSE AMENITIES
Penthouse Colors & Patterns – 30% off
Casino Shop Large Sculptures – 30% off
Bar and Party Area – 30% off
Members Party – 50% off
AIRCRAFT
Aircraft Concierge Services – Free
Buckingham Swift – 40% off
Buckingham Swift Flying Bravo – 40% off
Buckingham Swift Deluxe – 40% off
Buckingham SuperVolito Carbon – 40% off
Buckingham SuperVolito – 40% off
Buckingham Volatus – 40% off
Maibatsu Frogger – 40% off
Mammoth Hydra – 40% off
Western Maverick – 40% off
Blimp – 40% off
SUPERCARS & MORE
Principe Deveste Eight – 30% off
Pegassi Tempesta – 40% off
Vapid Festival Bus – 40% off

Rockstar Newswire: "As part of our ongoing partnership, Twitch Prime members who linked their Twitch and Rockstar Social Club accounts will receive a whopping 75% off the Pfister Neon and the Pegassi Reaper, as well as an additional 10% off all of the sales items listed above.
Check Rockstar Support for details and limitations."