[September 10, 2019] New Content in Red Dead Online
Today, the world of Red Dead Online deepens with the introduction of three new Frontier Pursuits, each presenting their own unique path filled with themed activities for players looking to thrive on the frontier. Choose to become a Bounty Hunter and hunt down dangerous criminals, partner with Cripps in an entrepreneurial venture to turn their camp into a bustling business as a Trader, unearth treasures both valuable and arcane as a Collector, focusing on one role at a time or all three at once.
In addition to Specialist Roles, today's update also includes a wide range of new features and gameplay changes to enhance the overall experience:
New items, weapons, clothing and horse-drawn vehicles
Directional damage indicators to display where your character is hit from
Additional horse breeds
The ability to change your character's appearance without resetting progress
Expanded custom outfit slots
The ability to name saved outfits
Role-specific Free Roam Events
Increased selling prices for looted Jewelry
Increased movement and animations speeds for more responsive combat (including aiming, cocking and reloading), faster looting and more
Additional game balancing and improvements
For more details, check out the Title Update notes here.
Each role has a standard startup cost of 15 Gold Bars to acquire a Bounty Hunter License, Butcher Table or Collector's Bag. However, it's also possible to unlock each startup item for free. Twitch Prime Members who linked their Twitch and Rockstar Games Social Club accounts by Sunday, September 8th will receive the Bounty Hunter License free of charge, while those who missed that deadline should see the License appear free within 72 hours of linking their accounts. Collectors who successfully hunted down all 54 hidden playing cards in GTA Online can claim the Collector's Bag for free through October 14th, while all aspiring Traders with an active PlayStation Plus subscription will receive the Butcher's Table for free through October 14th.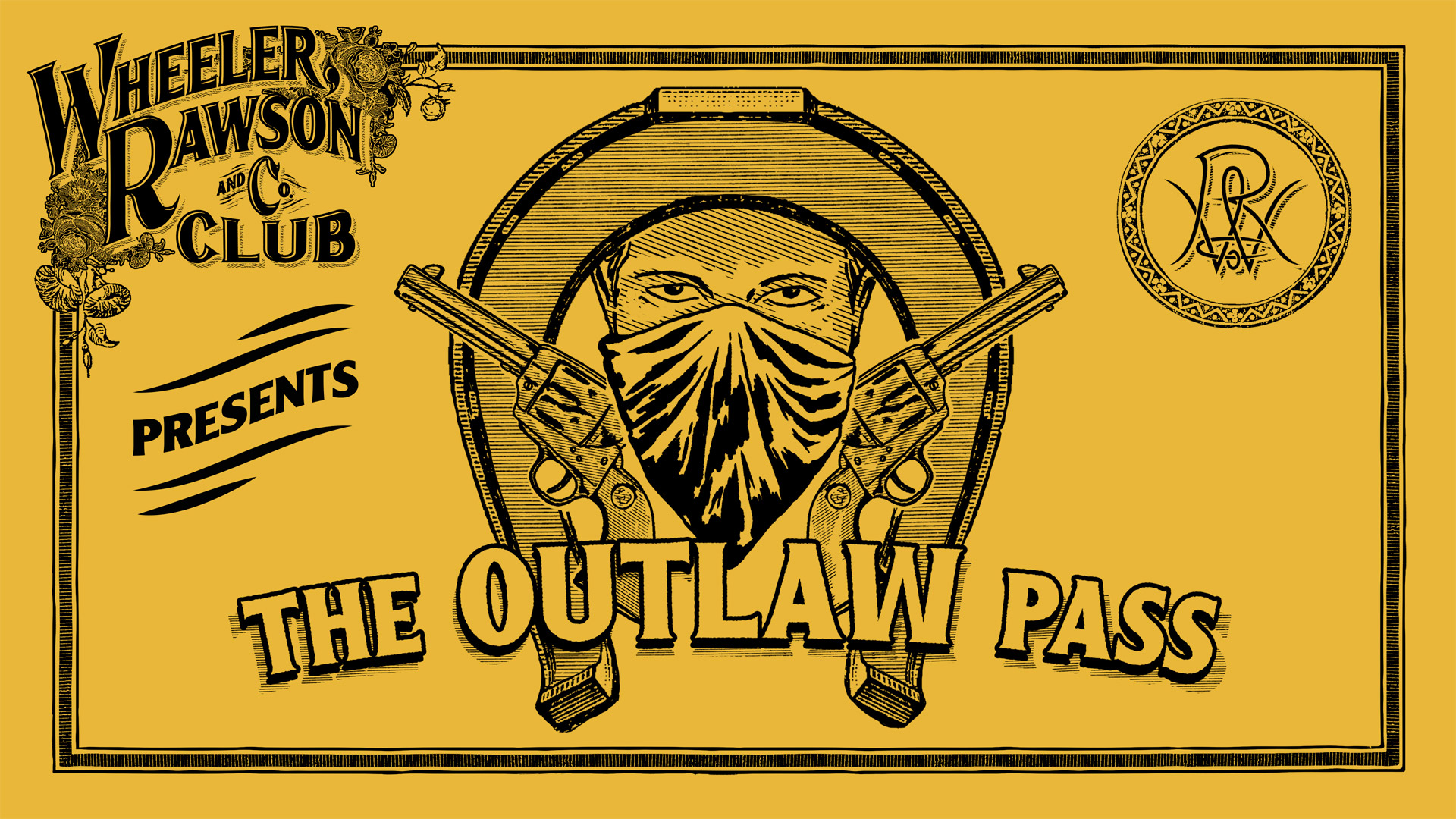 Players who venture into Red Dead Online anytime between September 10th and November 18th, 2019 will be automatically enrolled in the Wheeler, Rawson & Co. Club. This completely free membership provides new clothing and accessories, a special gun wrap, bonus cash, free care packages, an emote, a new graphic camp flag and more to all participants.
Those looking for even more perks and gear can opt for The Outlaw Pass which, for 35 Gold Bars, offers more rewards over time such as exclusive clothing, weapons stylings, campsite themes, bonus cash, Gold gifts up to 35 Gold Bars and much more. You can find more information about the Wheeler, Rawson & Co. Club and The Outlaw Pass here.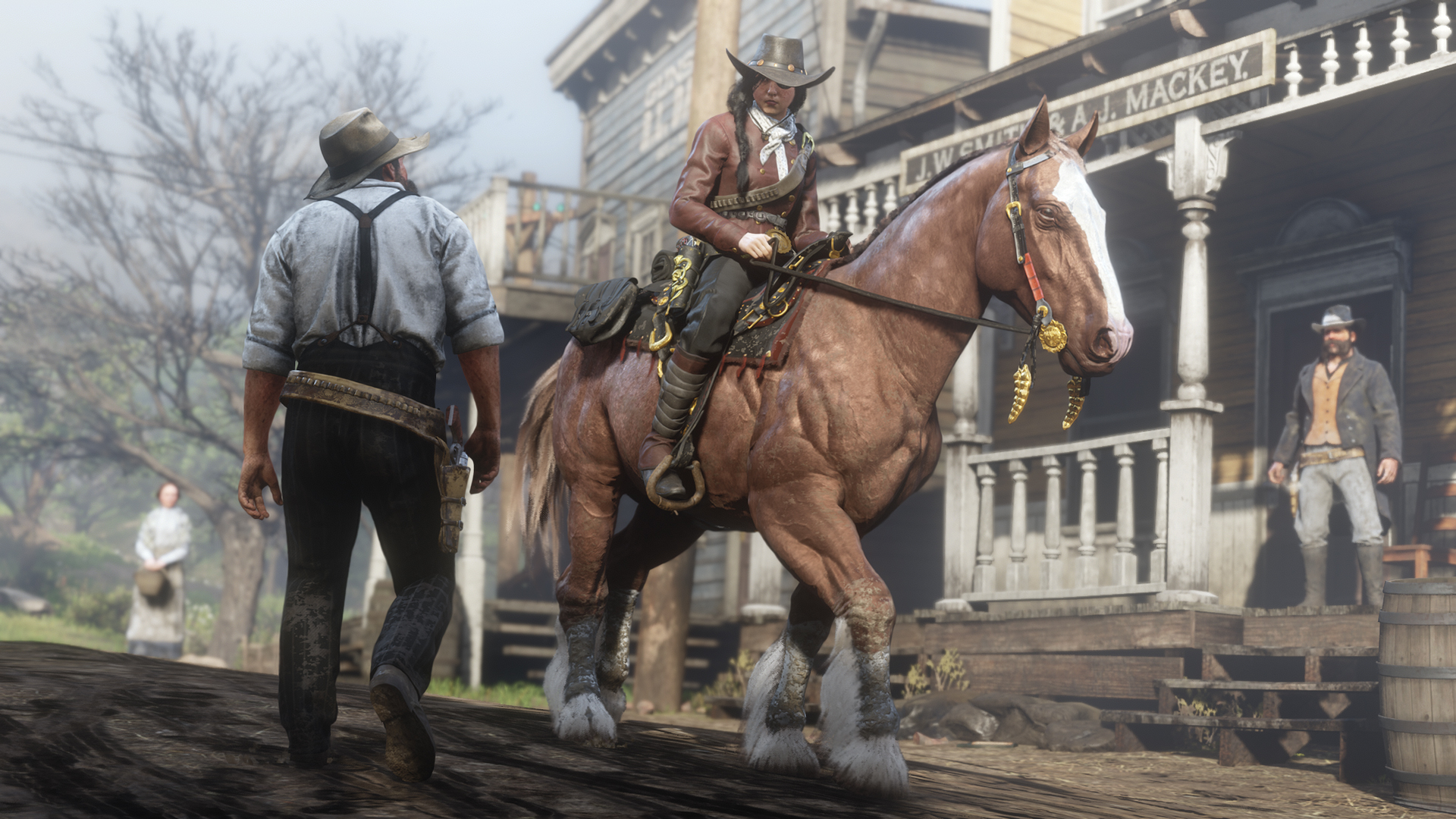 In addition to the free Butcher's Table to get started as a Trader, PlayStation 4 players will also receive the Trader Camp Theme and Weapons Locker both unlocked at Trader Role Rank 5 and free of charge from the Wilderness Outfitters store through October 14th . PlayStation 4 players will also enjoy early access to the American Foxhound Camp Dog, Shoot The Sky Emote, three new Ability Cards (Gunslinger's Choice, Strength in Numbers and Ride Like The Wind) as well as three new clothing items (the Carrigan Hat, Burnham Boots and Avery Gloves) through October 14th. On top of that, this month's PlayStation Plus benefit is a free gift of RDO$250 for playing anytime between now and October 7th, 2019.
All Ultimate Edition players will see the RDO$ price waived for two new steeds that are unlocked in the Bounty Hunter's progression: the sturdy Sorrel Breton and handsome Red Roan Breton.

Play Red Dead Online each week for even more new activities such as Legendary Bounties to pick up from Bounty Boards – each with their own sordid stories – and weekly maps with special collectible sets for Madam Nazar, plus all new bonuses, gifts and incentives coming in the weeks ahead.
The world of Red Dead Online evolves with Frontier Pursuits – featuring three new Specialist Roles – each with their own unique paths and activities to help you forge new directions and carve out a life for yourself on the frontier:
Bounty Hunter:

Become a Bounty Hunter for a life of constant action. A licensed Bounty Hunter can track down targets and capture – or kill, depending on how honorable you are in your pursuits. Occasionally, a nearby player with a high enough bounty can also be a designated target.

Trader:

The life of a Trader is perfect for burgeoning capitalists as you establish and develop a business from your Camp. Thanks to your trusty companion Cripps' knowledge of furs, skins and butchery, you'll be able to take on new opportunities to collect materials and produce valuable goods to sell.

Collector:

A Collector loves to explore the world for rare and valuable items. Look for a mystic travelling saleswoman in the wild to get started down the Collector's path, searching for lost jewelry, rare arrowheads and other treasures to sell as individual pieces or highly valuable sets.
Each Role comes with its own specific content including new themed gameplay and activities, Free Roam Events, Daily Challenges, Awards, unique customization items and more. Players can choose to play and progress across all three Roles simultaneously or choose to focus their efforts into the Roles of their choice.
The Wheeler Rawson and Co. Club has been added to Red Dead Online. Club membership is automatic and free, giving players rewards as they play between September 10th and November 18th. Players also have the option to upgrade to The Outlaw Pass through the Wheeler, Rawson & Co. Catalogue for even more perks and rewards. Everything you unlock and acquire during that period will stay with you permanently.
Four new Free Roam Events themed around Roles have been added to Red Dead Online, and can be unlocked through Role progression:

Manhunt
Day of Reckoning
Salvage
Trade Route

New Dynamic Events to encounter across the world.
New items and variations of Clothing and Outfits have been added for male and female characters in Red Dead Online, and can be purchased from any General Store, Tailor or the Handheld Catalogue.
Eight new beard styles have been added for male characters in Red Dead Online and can be purchased and applied at any Barber. Three of these beard styles must be unlocked through Role progression.
Eight new hairstyles have been added for male and female characters in Red Dead Online and can be purchased and applied at any Barber. Three of these hair styles must be unlocked through Role progression.
Five new weapons have been added to Red Dead Online, and can be unlocked through Role progression:

Reinforced Lasso
Bolas
Águila Machete
Hammer
Lance Knife

Visual variants have been added for five existing weapons in Red Dead Online and can be unlocked through Role progression. Once purchased, these can be applied to existing weapons through the Customization Menu at any Gunsmith store:

Bounty Hunter's Bolt Action Rifle
Bounty Hunter's Schofield Revolver
Collector's Lancaster Repeater
Collector's Volcanic Pistol
Trader's Pump-Action Shotgun

One new type of ammunition has been added to Red Dead Online, and can be unlocked through progression for the Bounty Hunter Role:

Tracking Arrow:

Drains target Stamina and allows better tracking while in Eagle Eye

Four additional weapon style modifications have been added to the Gunsmith in Red Dead Online, and can be unlocked through Club Rewards
Three new items of kit have been added to Red Dead Online, and can be unlocked through progression for the Collector Role:

Metal Detector:

Reacts when the player is close to some types of Collectibles

Refined Binoculars:

Triggers Eagle Eye by default allowing players to see collectibles/animals/targets etc. at a much greater distance

Pennington Field Shovel:

Allows you to dig up buried Collectibles in the world

Two new types of vehicle have been added for purchase from Stables in Red Dead Online, and can be unlocked through their respective Roles:

Bounty Wagon
Hunting Wagon
Three new horse breeds with coat variations have been added to Red Dead Online and can be purchased from any Stable or the Handheld Catalogue. All of these must be unlocked through Role progression.
Eleven new emotes have been added to Red Dead Online, and can be purchased from any General Store, Tailor or the Handheld Catalogue. Some can only be unlocked through Role progression or Club Rewards.
Nine new Passive Ability Cards have been added to Red Dead Online, and can be purchased from the Abilities menu:

Sharpshooter:

While using a scope, you deal more damage and take less damage

Kick in the Butt:

Whenever you take damage, a proportion of it is added to your Dead Eye

Live for the Fight:

You regenerate Dead Eye slowly over time

Friends for Life:

While mounted, you and your horse take less damage

Fool Me Once:

You take less damage each consecutive time you are shot. This effect ends if you are not shot for 10 seconds

Iron Lung:

Your Stamina regenerates faster, and you take less damage depending on your current Stamina level

Strength in Numbers:

You take less damage for every nearby ally, up to a maximum of three allies – PS4 Early Access

Gunslinger's Choice:

While dual-wielding, you deal more damage and are more accurate – PS4 Early Access

Ride Like the Wind:

Whenever you take or deal damage while mounted, a proportion of it is added to your horse's Health and Stamina – PS4 Early Access

The following skills/upgrades are available to learn through the Bounty Hunter Role progression:
Focus:

Highlights bounty targets red and along with a red trail in Eagle Eye

Gun Spinning:

Learn tricks that can be performed when double-tapping and holding the holster button

Tonics Satchel Upgrade:

Upgrades the capacity of certain items in this pouch by ten

Eagle Eye+:

Allows Eagle Eye to remain active while running, sprinting or galloping

Kit Satchel Upgrade:

Upgrades the capacity of certain items in this pouch by ten

Ducking:

Take cover by ducking to the side while aiming on horseback to break enemy lock-on

Perception:

Increased distance for detecting nearby Bounty Missions against player targets

The following skills/upgrades are available to learn through the Trader Role progression:

Ingredients Satchel Upgrade:

Upgrades the capacity of certain items in this pouch by ten

Awareness:

Increased distance for detecting nearby rival Traders selling goods

Canine Warning:

Your Camp Dog will warn you of impending raids on your Trader business

Efficiency:

Perfect animal carcasses donated to the business now contribute more materials

Materials Satchel Upgrade:

Upgrades the capacity of certain items in this pouch by ten

Protection:

Reduces the chance of raids occurring on your Trader business

The following skills/upgrades are available to learn through the Collector Role progression:

Divination:

Increases distance for audio and vibration clues when near Collectibles

Provisions Satchel Upgrade:

Upgrades the capacity of certain items in this pouch by ten

Potential:

Disturbed earth piles with buried Collectibles will be highlighted in Eagle Eye

Intuition:

Search areas shown by Collector's Maps are reduced in size

Equine Assistance:

Allows picking of herbs and plants while remaining on horseback

Valuables Satchel Upgrade:

Upgrades the capacity of certain items in this pouch by five

Several new items and variations of Horse equipment have been added to Red Dead Online and can be purchased from any Stable or the Handheld Catalogue. All of these must be unlocked through Role progression:

Saddles
Saddlebag
Horse Lantern

Several new Camp upgrades have been added to Red Dead Online and can be purchased from the Wilderness Outfitters at your Camp once unlocked:

Deluxe Campfire
Stew Pot
Camp Flags – Unlocked Through Club Rewards
Cripps Outfits – Unlocked Through Club Rewards
Camp Songs – Unlocked Through Club Rewards
Bucher Table
Weapon Locker
Camp Dog American Foxhound – PS4 Early Access

Three new Camp themes have been added to Red Dead Online and can be purchased from the Wilderness Outfitters at your Camp once unlocked:

Bounty Hunter Camp Theme
Collector Camp Theme
Trader Camp Theme

Two new Walk Styles have been added to Red Dead Online and can be set through the Online Options section of the Player menu once unlocked. These must be unlocked through Role progression:

Veteran Walk
Easy Rider Walk

A new set of Daily Challenges have been added into rotation, as well as additional Daily Role Challenges available for unlocked Roles
New Awards have been added, including new sets of Role-specific Awards